Escape the
Everyday!
Everyday life is busy... jobs, family, commitments; we get it. Our goal at Gravity is to help you Escape and Relax.
Dropping Jaws!
Everyday our customers comment on the Jaw Dropping beauty of our setting. Come and unwind in our tasting room or expansive covered deck overlooking our lake and vineyards.
Tickling Taste Buds!
From traditional dry reds to sweet summer sippers, we have a great selection of wines and ciders for you to enjoy by the taste, glass, or bottle.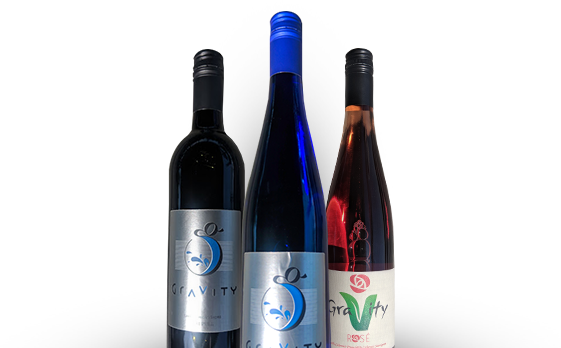 ---
Some Specifics
Tastings are $15 for six samples.
The tasting fee is refunded with any purchase 4 bottles of wine or cider.

Group Policy
Groups of 15 or less are welcome anytime during normal business hours, no reservation necessary. Unfortunately we are not able to handle groups larger than 15.
Pet Policy
We cannot allow pets inside our winery
Hours
(April – Thanksgiving)
Baroda--7 days a week; 12:00-6:00 Eastern Time
South Haven--Sun - Thurs 12:00-6:00, Fri - Sat 12:00-8:00 Eastern Time
(Thanksgiving – March)
Baroda--7 days a week; 12:00-5:00 Eastern Time
South Haven--7 days a week; 12:00 - 6:00 Eastern Time
Location
Winery and Tasting room: 10220 Lauer Road, Baroda MI 49101
Tasting room: 512 Phoenix Street, South Haven MI 49090
Are you curious about Gravity wines & ciders or have questions about visiting?
Please contact us at [email protected] with any questions or inquiries
live music Sunday's 2-5 during the summer